Campus Network Upgrade
Our client on this project was a large specialty service and printing company in the Mid-West. They have a campus facility with 4 buildings and are sized at approximately 200 employees.
This client needed to update their network from 1Gbit to 10Gbit for data, IP voice, Wi-Fi, and IP video to the campus. The existing network was based upon Cisco routers and switches, but they wanted something that was easier to manage as they were a small staff and didn't have two people trained to the level that they needed.  Other requirements were that there be a reasonable amount of redundancy, Power Over Ethernet to support the variety of connected devices, and to keep the solution to a practical cost.
With this criterion in mind, we designed the solution leveraging Cisco/Meraki products.  The cloud management structure of the Meraki devices allows for them to be easily managed from anywhere, even by a user that isn't a network expert.  They have a perfect combination of ease of use due to the instinctual GUI as well as provide for great control over network traffic with the built-in L7 and attached device analytics. Finally, the ability to schedule automatic updates of firmware and security patches convinced the staff that this was the perfect product for them.
The physical configuration is based upon two aggregations MS425 switches at the data center with stacked MS225's at the remote building closets.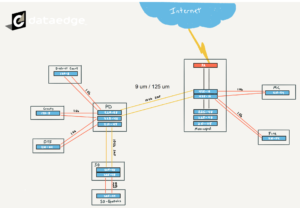 The MS225 models chosen included Power Over Ethernet (POE) capability so that separate power did not have to be supplied for video cameras or Wi-Fi units.  In addition, the MS225 switches are constructed as stacked devices for redundancy and single switch management.  The connection to each endpoint device is 1Gb with 10Gb being used as uplinks to the core switches.  All systems at the core (VMware clusters) are attached directly at 10Gb as well.
In the client's eyes, the Meraki solution created a perfect cloud-based infrastructure providing benefits of:
Fast implementation
Ease of management and monitoring
Firmware updates over the web that include performance improvements, new firmware, and security patches
Out of band management architecture meaning all reports, configurations and tools are in the cloud while data stays secure on the internal network
All switches configured and monitored via one Dashboard interface.
MS425's and MS225's switches utilize physical stacking at each separate location for a better switch to switch throughput and redundancy
Support industry-standard OSPF routing
Layer 7 Visibility of network traffic